This is my week to really start my art adventure.
In Part 2, we visited Vitrine Gallery, Tate Modern, Sculpt at Kew and the Frieze Art Fair.
First, here is a little digest of what's happening on the collector scene in London from the London Times that I summarized for you.
It appears that estate agents (realtors) are recognizing that art on the walls sells properties. They think this is because either it appeals to high end buyers that have art or those who aspire to have the lifestyle of the rich and famous. Art can add that wow factor if it is not evident in the architecture or other furnishing. Some high end firms actually commission art for model homes as client want to buy the homes with everything included just as they see it. Of course, art is also often borrowed.
They are realizing that the lighting fixtures needs to be appropriate for art and even the size of the doors to accommodate delivery can be deciding factors. Wall need to be strong enough to carry the weight of large pieces and have room for changeable hanging devices. In homes with little wall space, they use free hanging space, roller blinds or even the floors.
The big difference over here (UK) is that development companies are starting to offer art consultancy as well as interior design services. This could include investment advice and might lead to more educated inclusion of art in homes including commissioned works. The communal spaces already have commissioned sculptures on site.
But the most impressive new concept is to have artist as neighbors. One development at the Grafton Quarter in West Croydon has 90 artist's studios and an art gallery along with its 1,3 and 4 bedroom homes. Ecoworld Ballymore has included a gallery and studio workshops in its new 1600 home development at London City Island. The London Film School and English National Ballet are slated to move in.
We wonder what it would have been like if the NTC Foundation at Liberty Station had insisted on affordable artist housing when McMillin built the homes. With more and more not-to-code artist studios being closed, good studio space should be recognized as a bonus to the new developments in San Diego County.
From now on minimal words from me. I am on vacation so I am sharing locations but this year no labeling of images. But if you like anything and want to know more, please go online and check out the links.
Vitrine Gallery
The gallery is a set of windows in Bermondsey Square.
Gallery director Alys Williams. She has this space and one in Basle, Switzerland
Current day photos of the locations of Hoffman's Novelty Circus, a circus run by Murray's family that toured each summer through Saskatchewan, Alberta and British Columbia from 1933 to 1943, and the deployment of Japanese Fu-Go "balloon bombs", over one hundred of which fell on the Canadian prairies between 1944 and 1945 make up the images overlays. Then the artist has utilized the windows to add extra dimension by directly painting on the glass.
Cloud Study: I don't know what it is, but I know I don't like it.
I add to throw in a few food and drink images. This is the first mobile food truck I have ever seen with a wood burning pizza oven right inside.
Bermondsey Arts Club - A the corner of Tower Bridge Road and Grange road you will find a coverted underground loo that serves cocktails and host jazz musicians!
View from the street
Down some dodgy stairs
into art deco nirvana
Tate Britain
Hyundai Commission: Superflex, One Two Three Swing!. Besides sets of swings set through out the large hall, what was really impressive was the giant chrome ball swinging over head with the amazing carpet on the slanted entrance way. Standing right under the ball was a thrill.
We found the new wing rather dull but it does add enormous amount of space...I just question the large unused hallways we we in everyway. However the new view from the 10th floor (the old view in the old wing is now unavailable) was spectacular. But such a pity that a nasty little refreshment counter with no table or chairs was not an inviting place to linger.
Fahrelnissa Zeid - an eccentric Turkish princess married to a diplomat who painted her entire life...large abstract geometric work, mainly but after her husband died she made portraits of her students and herself. I rather like this one the combines hippy chic with traditional garb. Imagine a muslim women being able to have this kind of freedom in her life time. Bravo.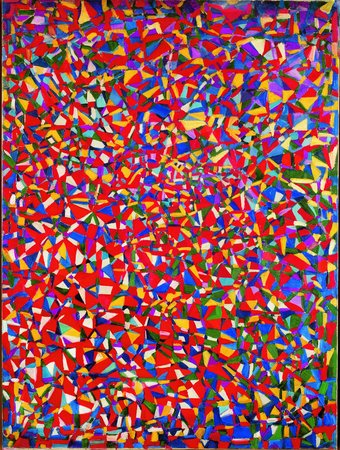 Senga Nengudi: Using nylon stocking which were never suited for African American ladies becomes a political statement
David Hammons: This works was made from greasy bags and left over hair from barber shops. The area that we are staying in right now has a barber shop every third store!
Betye Saar - still alive and in her 80;s and showing a whole reproduction of one of her former exhibitions. An exhibition within an exhibition.
A few favorite from the permanent collection
Handmade in Britain's innovative new exhibition, Sculpt at Kew, 70 sculptures from over 30 renowned British and international artists. The show was a bit decorative and thus week, but this great permanent HIVE was stunning.
Frieze Art Fair London has 160 galleries, huge spaces with large crowds even on a Friday afternoon, this was my third or fourth Frieze Fair and I wanted to see if it was different, if there was anything new or anything of really great quality. I found the show less weighty than in the beginning years. More like Frieze Light. But there is no denying that you can see the entire world of art in one tent which is a great experience and a great time saver. And the most impressive thing about this year's fair was the number of women artists included.
Sex Work: Feminist Art and Radical Politics was a special exhibition at the fair and several galleries were invited to participate in close proximity to a historical documentation of feminist work. But many space through out the space displayed openly sexual images. I remember at the first Freize works that were obviously sexual were hidden behind walls with warnings....now absolutely anything goes. I made small selection of those that appealed to me.
Now my own personal selection of some of the other art in the tent ending with the large Frieze sculpture display in the grounds o
f Regents Park.. There are many other fairs going on in London during this
time including:
Frieze Masters, Sunday Art Fair, The Other Art Fair, Pavilion of Art & Design London (PAD) and Moniker Art Fair.
Ai Wei Wei
Looks like a painting but this is a large tapestry
detail of above,,,all chalk
These two blokes look the least likely to be selling the work in back of the desk, detail below.
3-d embellished photograph of a public sculpture
detail from above...work from Korea
detail of above
here and below....neo plexiglas wall sculptures
detail from above
Are they dishes or are they dishes? Clever recycling
detail of above
This image and the one below are the same from two views...the same techniques used by the de la Torre brothers, but these are just cheap souvenir linticulated panels. The difference if that they have added paint on the surface.
Sarah Sze
Bernar Venet
Jeff Koons
John Chamberlain (who knew!)
Black Frosty
Rachel Whitbread Light (Stay tuned for Rachel Whitbread REAL ale at Tate Britain in Park 3!
I was so happy to go to Freize with a good friend Stephen Jones. He has sent his picks of the show and I thought it would be fun for everyone to see a slightly different view of the Frieze event.
Stephen Jones